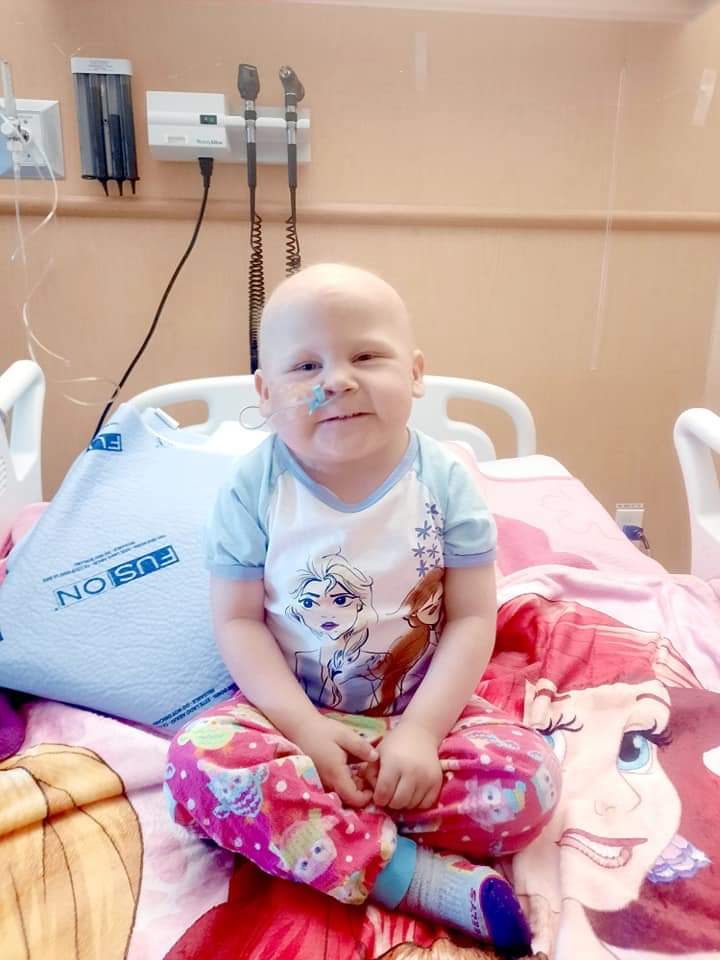 When Alycia Bérubé from Bathurst, New Brunswick, was three years old, her mom, Danika, noticed something wrong with her eye. One looked smaller than the other, and her cheek was swollen. She thought that perhaps their cat had scratched her eye.
However, after a trip to an eye specialist, Alycia's family doctor felt that there might be something more going on and reached out to the IWK. Two days later, in December 2020, Alycia was admitted for an MRI, where the team discovered she had a mass in her sinuses that was pushing up on her eye. A biopsy confirmed the family's worst fear. Alycia had cancer.
"It was like a bad dream…one I couldn't wake up from," recalls Danika.
Alycia's official diagnosis was Burkitt lymphoma, a very fast-growing (aggressive) type of cancer that often spreads to the brain or spinal cord. Thankfully, a CT confirmed it hadn't spread beyond her sinuses, but she needed to start chemotherapy immediately. 
For the next six months, the IWK was their home. Alycia needed four rounds of chemo, which were hard on her little body. Between January and February, she was so sick and weak that she couldn't even get out of bed. She lost her hair and had to re-learn how to walk. 
"It was heartbreaking," says Danika. 
After her final round of chemo, Alycia received another MRI. It showed that some pieces of tissue were left, but they didn't know if it was still cancerous. Alycia's care team determined that she needed four more rounds of chemotherapy to be safe.
Thankfully, Alycia's cancer treatment was successful, and she finally returned home to New Brunswick in June 2021. Her cancer remains in remission more than two years later. She's now six years old and enjoys every minute of her life! She loves dancing, attending school and playing outside with her older sister and younger brother.
She visits the IWK every six months for regular follow-ups to ensure she remains cancer-free.
By making a gift to support the IWK's most urgent priority needs, you help other Maritime children like Alycia receive the specialized care they need to live their lives to the fullest. It's the greatest gift you will ever give.